Located in the southeast of Greece, only 7 miles from the capital of Athens, Piraeus cruise port (also known as Athens port) is the busiest and largest passenger cruise port in the country. A gateway to the city, for those wishing to visit Athens during their stop there, there are several modes of transportation to choose from including shuttle buses, taxis, buses, and the metro.
It is a popular port for cruise lines such as NCL, Celebrity Cruises, Royal Caribbean, and P&O Cruises and has four cruise terminals including:
Terminal A Miaoulis (the Main Cruise Terminal)

Terminal B Themistocles

Quay Themistocles

Terminal C Alkimos
Address:
Cruise Terminal: Piraeus 185 38, Greece.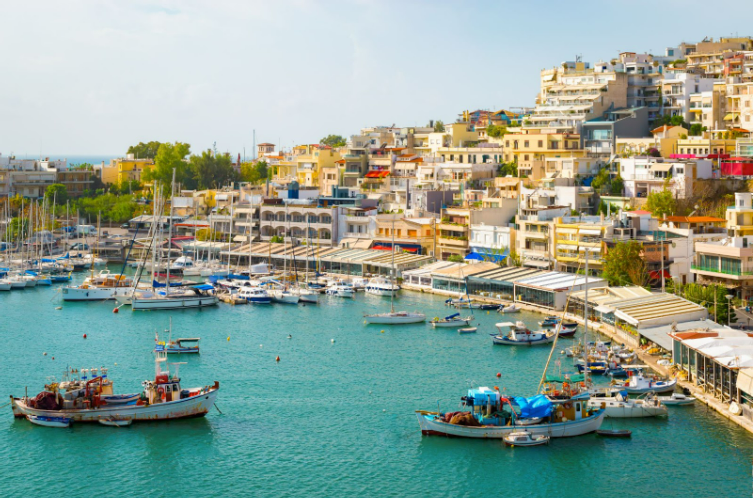 Read on to find out more about the port, including how to get there from the city centre and airport, along with other essential information such as port parking, hotels located near the port, and the facilities within the port itself.
How to get to Piraeus Port:
Getting around the port is simple as there are free shuttles for those who are docked further away. The shuttle will drop you at the main cruise terminal building.
From Athens city centre to/from Piraeus port:
Taxis
Taxis are available at the cruise terminal. The fare is between€25-€30 and will take roughly 30 minutes (traffic dependent). Uber is available in Athens but it is not yet popular enough to make it a reliable service. There is an alternative to Uber, called Taxi Beat that is available locally.
This is popular in Athens and is driven by trustworthy English-speaking drivers. All you need to do is download the app and book your ride.
Shuttle bus
Many of the cruise lines will have a shuttle service which is either free or with a charge. This is something you will have to check with your cruise line. The journey between Piraeus and Athens city centre is between 20-60 minutes depending on the traffic.
Bus
Thex80 Piraeus-Acropolis-Syntagma Express is the bus you need to catch to get from the port to the city centre. The bus runs every 30 minutes, 7 am-9:30 pm, 7 days a week.
Price:€4.50 - this is a daily ticket for all transport modes.
Metro
You can take the subway by getting on at Piraeus ISAP metro station and getting off at Monastiraki metro station. This will take 15 minutes. Take the green line towards Kifisia.
Price: €1.40 - a ticket is valid for 90 minutes.
The Piraeus ISAP metro station is only 20 minutes from the cruise terminal on foot. Head to the big pedestrian bridge opposite Gate E6. If you want to get a taxi to the metro it will cost up to €10.
Buses No. 826, 843, or 859 will take you to the metro station also. You need to buy the ticket at a machine before boarding and it is also €1.40 (valid for 90 minutes). This ticket can be used on the metro too.
As the station is not located within the port, the metro isn't the most accessible for those with disabilities.
If you opt to take the train and you have arrived at Terminal B, please be aware that it's located further away from the station than Terminal A. Taking around 30 minutes by foot, it is advisable to take a shuttle to Terminal A and walk from there. These shuttles pick passengers up every 10-15 minutes.
From Athens International Airport
:
Taxi
A Taxi is the most convenient way of getting to the cruise port, however, it will cost a flat rate of €54 in the day and €70 at night. This is for the standard yellow taxis. The "luxury" black taxis can cost up to double that rate. If this is the option you'd like to take, it is advised to pre-book ahead of your journey.
Bus
There is one bus (X96 which runs every 15-30 minutes, 24 hours a day, 7 days a week. It is a direct bus from the airport to the port.
Price: €6
Journey time: 90 minutes.
You get on the bus directly outside the arrival gate between exits 4 and 5.
Metro
The metro is a 15-minute walk from the arrival gate at the airport. You will need to take the blue line (line 3) to Monastiraki and then change there onto the green line (line 1) and head to Piraeus station.
Price: €10
Journey time: 85 minutes.
Piraeus Port Parking:
There is no parking at the cruise terminal. If you need to find parking, there are private parking lots close by. You will find a few on Akti Miaouli Street.
Distance away from cruise terminal: 150 metres
Prince: starts at €20 per day
Hotels near Piraeus Port:
There are many hotels in Piraeus, Greece and many of them are near Piraeus port. Below are some of the top pick hotels to stay in before or after your cruise.
The Port Square Hotel (0.2 miles from Piraeus Port)
Gallery Suites & Residences (0.3 miles from Piraeus Port)
Port's Little Gem (0.5 miles from Piraeus Port)
Piraeus City Hotel(0.6 miles from Piraeus Port)
Aegean Windows (350 yards from Piraeus Port

)
Athens (Piraeus) Cruise Terminal Facilities:
Facilities such as seating, restrooms, and places to eat are all available in Piraeus port. See below for some details on where you can take advantage of these facilities.
Waiting lounge: There is not a specific waiting lounge but there is seating throughout the terminal, although it does get busy.
Toilets: There is a bathroom for both males and females throughout each terminal.
Shops: The port has a duty-free shop area at Terminal A. As well as that, Piraeus city centre is just a short walk away.
Bar/restaurants: The port has an area to grab refreshments in Terminal A. Other places to grab food and drink are within the city of Piraeus.
Disability access: There are accessible entrances when at the cruise port. The buses don't have ramps on them so you'll need to be lifted in if you're in a wheelchair. If you are getting a metro to and from the city of Athens, then you can use the accessible entrance. Although the ramp doesn't continue down to purchase tickets.