One of the top 3 cruise ports in the world, Fort Lauderdale's cruise port, Port Everglades, is popular with cruise lines and passengers alike, With no less than 8 cruise terminals, all are fully modern and easily accessible from your airport or hotel for a convenient, stress-free start to your cruise holiday.
Below you will find the address for the Fort Lauderdale Cruise Port, Port Everglades, and all other useful information for your trip, including how to get there, hotels, parking, and terminal facilities.
Address:
1800 SE 18th St, Fort Lauderdale, FL 33316, United States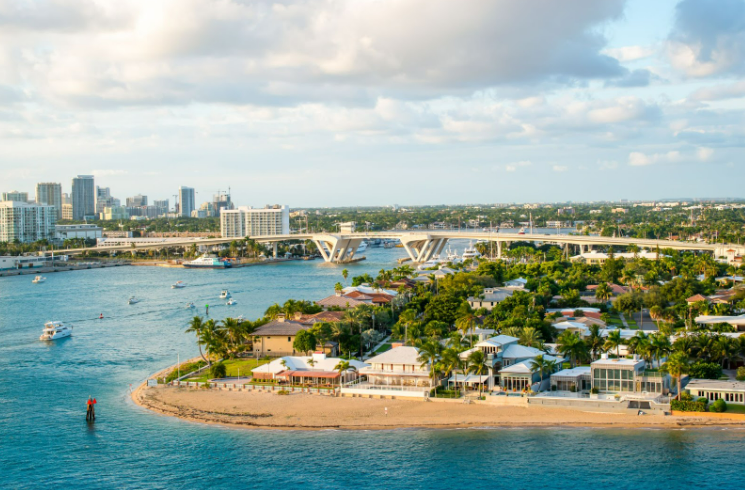 How to get to Fort Lauderdale Cruise Terminal (Port Everglades):
There are different modes of transportation to Port Everglades from Miami airport and Fort Lauderdale airport. You can find the price of an Uber, taxi, and additional services below.
From the Fort Lauderdale Hollywood International Airport-
Uber/Lyft- Easily accessible and rates are usually lower than a taxi. Rates are between $10-$15. The pick-up services are between terminals.
Taxi- From Fort Lauderdale Hollywood International Airport it is between $15-$20. The airport is only 3 miles away from the port but you need to allow good time for travel as it is traffic dependent.
Hotel shuttles- Hotels provide shuttle services from the airport and to the port. If you are staying at the hotel, it can often be included in the package. If you're not, it can be a small fee depending on the hotel. Some of the hotels that offer a service for both the airport and cruise port are:
Embassy Suites by Hilton 17th Street

Four Points by Sheraton

Best Western

Springhill Suites

Crowne Plaza Hotel
From Miami International-
Uber/Lyft- Using this service is possibly the best option as it is much cheaper than getting a town taxi. It will cost a minimum of $40 but if you have more luggage then you will need a bigger car which will cost more.
Taxi- You can get a taxi that will take a minimum of 40 minutes (traffic dependent). It will cost between $80-$100
Cruise Line shuttle- the majority of cruise lines provide a shuttle service but it can be a bit expensive unless included in your package. Contact your cruise line for their shuttle rates.
Fort Lauderdale Cruise Port Parking:
There is cruise parking at Port Everglades if you are in need of parking your car before your cruise. See below the short-term and long-term rates.
There are 2 main car parking facilities at the port - the Heron and Palm parking garages. Both are located close to the cruise terminals and hold close to 2000 car park spaces.
Short-term rates -
Up to an hour - $3

Up to 5 hours - $6
Long-term rates -
There are other long-stay parking options close by. This includes Parkway Parking. It is located a short distance from the port and costs less than $9 a day. Plus, they offer a free shuttle service to the port. This is a secure place to park your car and is trusted by the cruise port.
Hotels near Fort Lauderdale Cruise Port:
See the best Fort Lauderdale hotels below if you are looking to stay a night or two before your cruise begins or once you are back in port.
Renaissance Fort Lauderdale Cruise Port Hotel (0.5 miles from Fort Lauderdale Cruise Port)

Hilton Fort Lauderdale Marina (0.5 miles from Fort Lauderdale Cruise Port)

Villa Luna (0.6 miles from Fort Lauderdale Cruise Port)
Hyatt Place (0.7 miles from Fort Lauderdale Cruise Port)
Harbourside Flats (0.7 miles from Fort Lauderdale Cruise Port)
Facilities at Port Everglades (Fort Lauderdale):
Port Everglades 8 terminals and main port area are fully modern with many facilities including waiting areas, toilets, and disability access. There's also much-welcome air conditioning throughout!
Waiting lounges- there are 1000 to 3000 seats within each terminal and during long delays, folded chairs are available.
Toilets- the modern port has toilets on both floors of each terminal. They also provide toilets outside of the terminals but these can vary depending on which area you are in. There is also a solo toilet shelter close to the parking garage.
Shops- There are no shops in the terminals but there are shops located in the port for essentials. The popular shopping centre is Harbor Shops. There are also shops not far from the port itself.
Bars/Restaurants- Although there are no food options apart from vending machines in the terminals, there are many food options near the cruise port, from quick snacks to options a little more luxurious.
Disability access- The terminals are fully modern and getting around is wheelchair friendly. But please note, if you need wheelchair assistance, you must contact your cruise line to make arrangements. All recommendations are to book ahead of time.