The most popular cruise terminal in the Canaries is Santa Cruz de Tenerife. It typically accommodates ships from P&O Cruises and NCL.
Cruise Terminal Address:
Av. Francisco la Roche, 29, 38001 Santa Cruz de Tenerife, Spain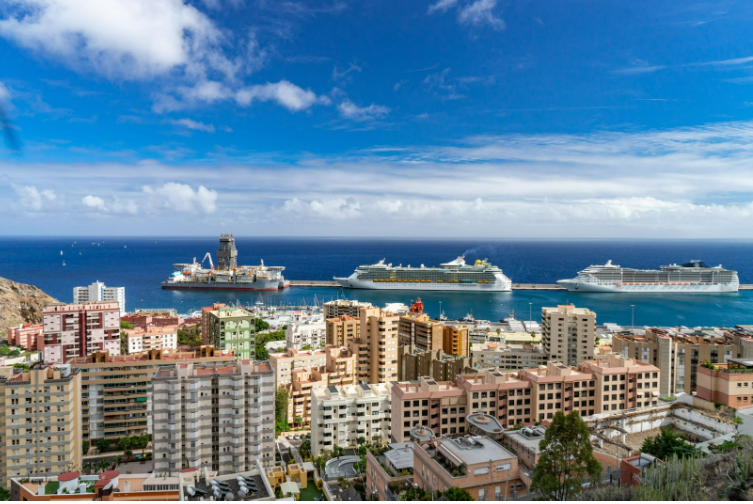 How to get to Santa Cruz, Tenerife cruise terminal:
The town of Santa Cruz is 1 kilometre from the cruise terminal and the airport is roughly 14 kilometres from the cruise terminal. You can get there easily by public transport, taxi and shuttle services.
From Tenerife Airport-
Bus: the least expensive option at €1- €2. You need to take line 20 and it will take approximately 15 minutes depending on the traffic.
Tram: this is also one of the cheapest options at €2. You can get a 5-minute bus to the tram stop at Padre Anchieta and then get the tram (line 1) which will take roughly 33 minutes to Fundación (the cruise port).
Taxi: you can get a taxi service from the airport which will be approximately 15 minutes depending on the traffic and will cost you €20- €30.
Getting to the city centre-
Tenerife Port Authority offers a free shuttle bus service between the port and Plaza de Espana in the city centre. You can also get a taxi. You may see guidance that the free shuttle is only for people with accessibility requirements, but in reality, anyone can use it as needed.
Santa Cruz Parking:
There is a car park inside the port with a cost of €10- €15 per day. There is also an external car park 5 minutes from the port itself.
Hotels near Santa Cruz, Tenerife Cruise Port:
If you are looking to stay in Tenerife before or after your cruise, there are hotel options in the city centre of Santa Cruz.
Central Lofts

AC Hotel Tenerife by Marriott

Hotel Colon Rambla

Hotel Taburiente S.C. Tenerife

Santa Cruz Tenerife Guimera
Santa Cruz, Tenerife Cruise Terminal Facilities:
With the city centre being so close to the cruise port of Santa Cruz de Tenerife, there is no shortage of facilities available.
Waiting lounge- there is plenty of seating within the terminal and also a VIP lounge.
Toilets- there are public toilets along the seafront and as you enter the port but not within the actual terminal itself.
Shops- there are shops close by which are open on weekdays and Saturdays. Only shopping malls are open 7 days a week. There is a market called El Mercado Nuestra Senora de Africa which is around 15 minutes from the cruise terminal. Here you can grab local foods and souvenirs.
Bars/restaurants- there are no eating facilities in the port but there are plenty of options along the beach front including a wine & cheese bar, bar & grill restaurants and so on.
Disability access- people with disabilities or walking difficulties will find it easy to get around the port and Tenerife. The surfaces are all flat and even. Most of the pavements in the town have dropped kerbs so getting around should be simple. Most of the local buses are accessible and standard taxis are available daily on the quayside.