Civitavecchia is the largest cruise port in Italy. It is officially known as Roma Cruise Terminal and has 4 terminals that a variety of cruise lines use, including Celebrity Cruises and Royal Caribbean.
Below you will find the address to the port, information on how to get there, hotels, parking, and terminal facilities.
Port of Civitavecchia - E840, 00053 Civitavecchia RM, Italy
Rome Cruise Terminal - Porto di Civitavecchia, Banchina 25, 00053 Civitavecchia RM, Italy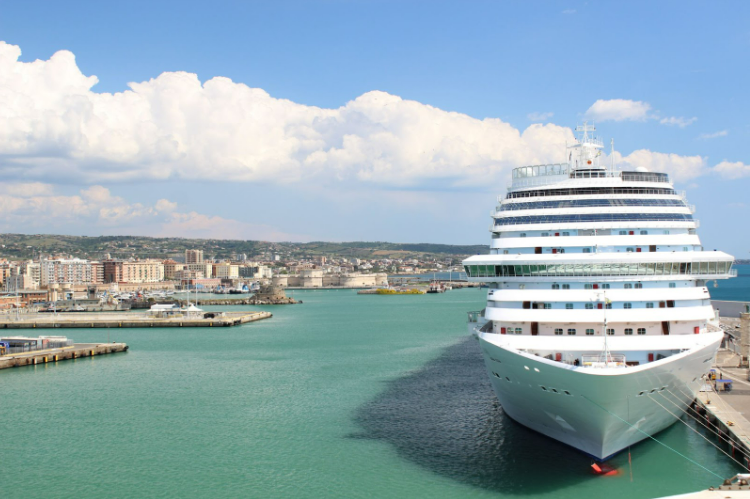 How to get to Civitavecchia Cruise Port:
Moving around the port is simple with the free shuttle service. It stops at the different terminals regularly throughout the day from 5:30 am to 11:00 pm. If a ship is due to stay later than 11:00pm this service will be extended.
These are the best ways of getting to Civitavecchia cruise port from the city of Rome and how much it will cost by taxi (private shuttles) and train.
From the city:
Civitavecchia port is located just under40 miles from the centre of Rome, making it very accessible to get to regardless of how you wish to travel.
Train
For those travelling to and from the centre of Rome, the Civitavecchia Express is ideal. Designed specifically for cruise guests, it will take you directly to the port in just over 1 hour. It is a quicker service than standard trains and has guaranteed seating and room for luggage.
The Civitavecchia Express travels from Roma Ostiense station to the port (and visa versa) with only one stop along the way -Roma San Pietro station.
If you are travelling back to the centre of Rome after your cruise, from Rome Ostiense station you can either get the bus, taxi or metro to get into the city.
The Civitavecchia Express offers vacation schedules that specifically consider both the arrival and departure times of the cruise ships - making it a convenient option whether it's your first cruise or you're an avid cruiser.
You can buy tickets for the Civitavecchia Express from Trenitialia's website or from the ticket counters/machines at Civitavecchia station.
Please be advised that a ticket on the Civitavecchia Express does not include travel on buses, the metro, tramways, or trolleybuses.
Price:€4.60
Aside from the Civitavecchia Express, there is another train service offered by Trenitalia between the city centre and the cruise port. Services run twice an hour and take around 70-80 minutes. Termini Station is the final stop on the train.
Price: €4.60
To get from Civitavecchia train station to the cruise terminals you can take the public bus, taxi or you can walk. The train station is 1km away from the port. However, there is no direct public access to the cruise ships, therefore you need to ensure that if you opt to walk, you'll have to use one of the free shuttle buses between the ship and the Largo della Pace (cruise ship reception area).
Private Transfer
Even though this is an expensive option, it's suitable if you're looking for a more personal and hassle-free experience at the start or end of your cruise holiday. For a private transfer from/to Rome, you will have to book in advance.
Price: approximately€78 each way.
From the airport
:
If you are travelling to Civitavecchia port straight from Rome Fiumicino Leonardo da Vinci Airport, there are also a variety of modes of transport to choose from.
Bus
One of the quickest and most popular ways to travel from the airport is to get the bus from the airport to Maccarese Stazione FS. From there you can get off the bus and jump on a train from Maccarese-Fregene to Civitavecchia. This will work out less expensive than just getting a train and will take between 1 hour and 1h 15 mins.
Train
Alternatively, you can get the train from Rome Fiumicino Leonardo da Vinci Airport to Civitavecchia station and then a bus or walk from there to the port. The journey takes between 1h 35 mins to 2 hours. The train price ranges between€11-€30. This is based on pre-booking online.
Private Shuttle Service
You can also get a direct shuttle from the airport to the port which will take 45 minutes, although it is very expensive as it starts from€165. There are no additional shuttle services.
Civitavecchia Port Parking:
There is parking available at the port of Civitavecchia, but this can be limited so it is worth booking in advance. Below are the different parking options available.
Bramante
This is the main parking facility for all cruise passengers. It is open from 6 am to 9 pm and has 183 parking spots. Please note there are only 4 spaces designated for disabled parking.
Cruise Parking
This parking is reserved for Costa Cruises and Royal Caribbean passengers. However, it is closed in the winter so the reference parking for these passengers becomes Bramante.
It is located a few steps away from pier 25 which is convenient for passengers departing from there as they can access the ship by foot.
If you are following a Sat Nav, follow directions to Parcheggio Cruise Civitavecchia.
All parking fees are the same in each parking facility:
1 hour -

€1

24 hours - €13.60

7 days - €75.60
Civitavecchia hotels near the Cruise Terminal:
Here you can find hotels near Civitavecchia Cruise Port. There is a wide range of hotels close to the cruise port, some more luxurious than others. A few to look at with exceptional reviews are:
Scirocco Rooms (0.1 miles from the port)
La Casa Sul Mare (0.2 miles from the port)
Hotel Porto Di Roma (0.3 miles from the port)
Suite Mediterraneo (0.3 miles from the port)
Hotel Smart Cruise (0.4 miles from the port)
Rome (Civitavecchia) Terminal Facilities:
Rome Cruise Port offers a variety of facilities such as restrooms, seating areas, shops, and places to eat.
Waiting lounge: There is no main terminal building but there are marquee-style tents for housing luggage and seating areas.
Toilets: there are several toilet areas located in the Port of Civitavecchia.
Shops: Although there are no shops at the port, there are shops on the main street of Civitavecchia. This is a short walk from the port.
Bars/Restaurants: There are 8 places to eat within the port. These include cafes, restaurants, and bars.
Disability access: The port doesn't cater well to people with disabilities. The port shuttle does not have a wheelchair ramp which means that people in wheelchairs will need to be lifted in. There are no wheelchair ramps on the two buses that you catch in Civitavecchia to get to the train station. You must notify Trenitalia 24 hours in advance if you need assistance. Although the journey is doable, it will need to be thought about prior to arriving at the destination.