People searching for New York cruises will find that they will be departing from the Manhattan cruise terminal. One of the three major passenger terminals in New York is located west of New York City, the terminal sits on the Hudson River. The picturesque terminal has ships sailing under the Verrazano Bridge and past the Statue of Liberty before berthing. Popular cruise lines such as NCL sail from the Manhattan cruise terminal.
Address:
Manhattan Cruise Terminal - 711 12th Ave, New York, NY 10019, United States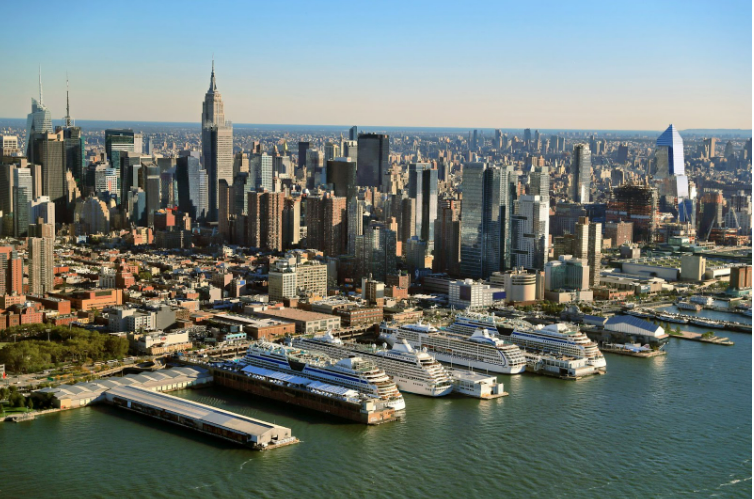 How to get to Manhattan Cruise Port:
Using an Uber, Lyft, or a Taxi is the best way to get to Manhattans Cruise Port. Below is a summary of the least expensive options and where from.
Uber -
From Central Park, it will cost $9- $13

From Brooklyn, it will cost $30- $41

From the Bronx, it will cost $28- $38

From Queens, it will cost $55- $72
Lyft -
From LaGuardia Airport it will cost $43

From Newark Airport it will cost $27
Taxi -
From JFK Airport it will cost $53
Cruise shuttles - Most often visitors to Manhattan Terminal are Carnival and NCL. Carnival has shuttles that run from all three major airports.
Newark Airport - $31 (one way)

LaGuardia Airport - $32 (one way)

JFK Airport - $33 (one way)
NCL offers a shuttle from only LaGuardia Airport and is $40 for one way.
The prices above are all per person so the best option is probably to get a Lyft or Taxi if you're travelling with someone else or a group.
Train - If you're coming from out of the state, you can get on a train. Amtrak offers a service to NYC along the Northeast from Boston. It will go through Providence, Hartford, Philadelphia, Baltimore, and Washington D.C. before terminating at New York's Penn Station. You will need to get an Uber, Lyft, or taxi from the station to the port.
New York Cruise Port Car Parking:
There is NO short-term parking at the Cruise Terminal. There is a drop-off zone and pick-up but no short-term parking.
There is a rate for cruises between 1-10 days at $40 per night. For extended cruise parking of 11-14 days, it is a fixed rate of $400.
Parking opens at 8 am and check out is 3 pm. You cannot pre-book your space. It is on a first-come, first-served basis to cruise parkers.
There is parking across the street from the terminal called MTP Manhattan Cruise Parking. Charges start from $45 daily. There is 24-hour access to vehicles and there is 24 on-site security. You can pre-book your parking space. As it is located across the street from the port, this is the recommended option for the least disappointment. Although it is $5 more expensive a day, there won't be any issues as you know you're guaranteed a space.
Hotels near New YorkCruise Terminal:
The Port of Manhattan has a wide variety of hotels close by to choose from and these are our picks.
Ink 48 Hotel (450 years from NY Cruise Port)

Comfort Inn Manhattan - Midtown West (500 years from NY Cruise Port)

Riu Plaza New York Times Square (0.7 miles from NY Cruise Port)

TBA Times Square (0.8 miles from NY Cruise Port)

Sheraton Lincoln Harbor Hotel (1.6 miles from NY Cruise Port)
Port of New York Facilities:
Facilities provided at the cruise terminal are modern and in line with what people are needing. As only a short distance from Times Square, the terminal does not have a huge range of shops and restaurants but they do provide some. See below the facilities that Manhattan Cruise Terminal offers.
Waiting lounge- there is plenty of seating after security but you will struggle to find any before going through, especially during busier hours.
Toilets- there are plenty of toilets before and after security.
Shops- there is only a small shop in the terminal but there are so many shops within walking distance of the terminal in Times Square and Columbus Circle.
Bars/restaurants- there is a little coffee shop to grab a quick drink and snack at the cruise terminal but if you're looking for more of a sit-down meal and something a bit heavier before heading onto the ship then your best option is to go into Times Square and Columbus circle. There are plenty of chain restaurants and independent cafes, bars, and restaurants.

Disability access- Manhattan Cruise port does NOT provide wheelchairs at the terminal. If you need a wheelchair, you must contact your cruise line in advance to get the assistance you need. There are elevators going into the Customs Hall and these are located at the head of each pier.