Port Canaveral is a cruise port in Florida. It is located in Orlando. Just some of the big cruise lines Royal Caribbean, P&O Cruises, and Carnival dock and depart from Port Canaveral. Below you will find the address to the port.
Address:
Charles M Rowland Dr, Port Canaveral, FL 32920, USA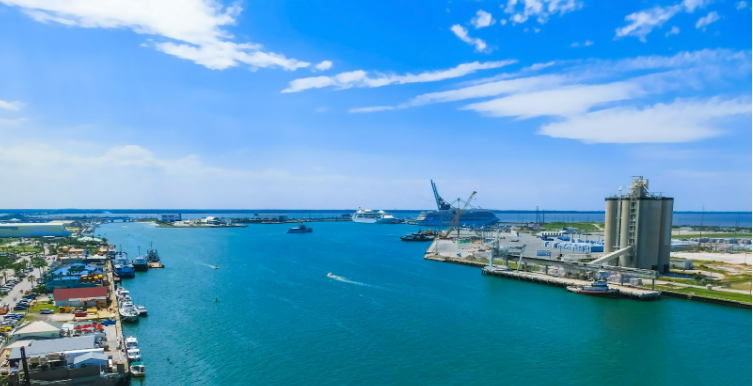 How to get to Port Canaveral:
There are many ways of transport you can use to get to Port Canaveral from Orlando airport. Listed below are the different options you may consider using.
From the airport-
Uber/Lyft - this is also a recommended service. The ride can get expensive though. The fare can be around $60-$70 per person.
Shuttle - the most recommended way of getting from the airport to the cruise port. Independent shuttles cost between $18-$30 per person each way. This is the least expensive way of getting to the port from the airport.
Hotel shuttles - many hotels offer a shuttle service as an extra. It is worth finding out if your hotel has a shuttle service.
Cruise Line shuttles - some cruise lines offer shuttle services to and from the airport from the cruise port. Although it is a very expensive option starting at $72 per person.
If you are flying into Miami International or Fort Lauderdale, the recommended option is a car rental as there are no quick and easy shuttle services.
Port Canaveral Car Parking:
Park Port Canaveral is a safe, secure surface parking lot with 24/7 security. It is located within two miles of Port Canaveral terminals which are around 5 minutes away. It is the best option for parking as it is around 30% less expensive than on-site port parking. They offer FREE air-conditioned shuttles where they will drop you directly in front of your cruise terminal.
The fare is as low as $10.95 per day.
Hotels near Port Canaveral Cruise Departure Port:
Staying in one of the many Port Canaveral hotels before or after your cruise is usually a popular option as you are able to explore more of the city. Listed below are some of the best options to go with.
Many options are available and we have listed a few we think are great options.
Hampton Inn & Suites Cape Canaveral Cruise Port (1.1 miles from Port Canaveral)

Homewood Suites by Hilton Cape Canaveral-Cocoa Beach (1.2 miles from Port Canaveral)

Home2 Suites By Hilton Cape Canaveral Cruise Port (1.2 miles from Port Canaveral)

SpringHill Suites by Marriott Cape Canaveral Cocoa Beach (1.4 miles from Port Canaveral)

Holiday Inn Club Vacations Cape Canaveral Beach Resort, an IHG Hotel (1.2 miles from Port Canaveral)
Port Canaveral Cruise Terminal Facilities:
The facilities in Port Canaveral are modern and there is a lot in and around the port so you will have plenty of options for your needs. There is disability access available.
Waiting lounge- there is seating in each terminal. The amount of seating depends on the size of the ship. The seating area is only designed to accommodate people as they go through to the ship, not as somewhere to sit for a long period of time. This means you need to time your arrival well.
Toilets- there are toilets in each terminal for both men and women. There are also toilets in the parking garages.
Shops- Cove harbour-side has a retail area. The closest shopping centre to the port is the Merritt Square Mall. It is 15 minutes away in Cocoa Beach. Other options include the Avenue Viera and Kennedy Space Centre (both 30 minutes away).
Bars/restaurants- Cove harbour-side dining area is the place to go for eating with a variety of options available.
Disability access- With the port being a modern port, it is easily accessible to get around. If you need wheelchair assistance, you need to make arrangements with the cruise line. There is accessible parking at the cruise terminal parking. Transfers can be arranged but they do need to be booked in advance.